Bishop Joseph Dupont, Beginning in Africa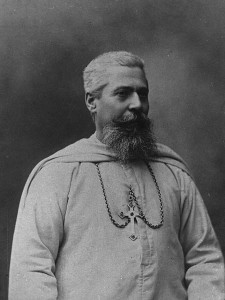 The arrival on 31 May, 1895 of Father Joseph Dupont, the newly appointed head of the Nyassa Mission, proved to be a turning point in the history of what is now the Diocese of Mbala. The son of a small farmer, he was born on 23 July, 1850 at Geste near Cholet in the Vendée region of France. He was ordained a secular priest for the Diocese of Angers in 1879 but joined the White Fathers soon afterwards. After studying Geography in Paris, he taught for five years in North Africa. In 1885, he was appointed to the Lower Congo, but on arrival, he found that the territory had been entrusted to the Holy Ghost Fathers. So he returned to France and taught in a seminary for another four years.
In Tanganyika:
Father Dupont returned to Africa in June 1891 at the head of the tenth caravan of White Fathers. His caravan left Bagamoyo on July 27 shortly after Stocke's huge caravan of 7,000 people had departed for the centre of Africa. The scenes he witnessed on the way left a deep impression on him: sick and dying people had been abandoned on the way by Stocke's caravan. Corpses of the dead lay unburied by the trail. Having reached Kipalapala (near Tabora) in November 1892, he went on to Karema near lake Tanganyika, where he was welcomed by Bishop Lechaptois, formerly of Mambwe. There he found a thriving mission of about 400 liberated slaves, 170 Christian families and 1000 catechumens. He built a two story residence for the fathers and established many outstations. Soon he earned the affection and esteem of both, chiefs and people. It was there that he was given the nickname "Motomoto" (the fiery one). Chiefs came to consult him and he often acted as their intermediary with the German colonial authorities.
Kayambi
Father Dupont wasted no time in Mambwe before getting down to work. After only three days he set out to meet Chief Makasa, to take up where Father van Oost had left off. Makasa was very distressed at the death of Father van Oost and he gave a very cordial welcome to the new Superior. He promptly offered him a site for the mission, near his residence at Mipini, at a place called Kayambi on the bank of the river Lucewe. This is where Dupont founded the first mission among the Bemba.
Threat of War
Having made an agreement with Chief Makasa, Father Dupont, already known as Motomoto, wrote immediatlely to the British officer at Fife, on the Old Stevenson Road, asking permission to transfer his mission to Bemba country. This was willing granted, but with the proviso that, in the event of trouble, he could expect no government help. Chitimukulu was infuriated when news of the pact to establish a mission in Bembaland reached him. He threatened to make war on Makasa, if he did not immediately rescind the agreement. Makasa was thoroughly alarmed and begged Motomoto to delay the installation of the Mission. Motomoto sent this message to Makasa: " So you want to frighten me! Well, I know that Chitimukulu is a Brigand, but, you can tell him that I am a more powerful brigand than he is. I am coming tomorrow."
Intimidation
Makasa was at first delighted with this answer, and he immediately renewed his offer of a site at Mipini. So on July 11, 1895 Motomoto and Brother Antoine set out for Mipini with their baggage and 50 men. When they arrived at the Chief's village, to their amazement, they found it barricaded and defended by armed soldiers. No one answered their greetings, and people shouted at them to go away. Father Dupont made a tour of the fortifications to the accompaniment of shouts and threats. He did not fail to notice the heads hanging on stakes which were intended to intimidate him. He sent one of his Christians, called Joseph, with a message for Makasa. But he returned immediately accompanied by angry-looking young men. Motomoto then decided that the time had come for him to raise his voice. He shouted at them: " Take me to your Chief. I wish to see him. It is he who asked me to come here." So they took him to Makasa, who was very excited and shouted: "I do not want you here. Go away." Motomoto replied calmly: "Very well, I agree to go, but please allow me to spend the night here, since it is already too late to travel." This permission was granted.
Father Dupont celebrated the Mass next morning and went to bind the ugly leg wounds of an old woman. This act of charity both surprised and delighted the villagers. Admiring his courage and goodness, their hostile cries gave way to words of praise. Makasa recognize the true leader in Motomoto. Everyone was delighted and came to congratulate him.
On 23 July 1895, Father Guillé came to Mipini with all the personnel of the mission, children and redeemed slaves which numbered 200 persons.
Revenge:
When Chitimukulu was told that the Fathers were established at Kayambi, one of Makasa's villages was attacked and plundered, people were massacred and women and children were taken captive to be sold to the Arabs. Later on they were to be ransomed at Kayambi. Killers were sent to dispatch Father Dupont, but when they heard of his reputation as a marksman, they felt it prudent to retire. People had told them that he could shoot a guinea fowl in full flight.
Bereavement:
The reaction of the ordinary people was quite different. Seeing with their own eyes that the missionaries loved them, they brought the sick from far and near to be cared for. Very many attended instruction in the faith. Meanwhile, with the rainy season approaching, many things had to be done urgently. Solid buildings had to be put up and the soil prepared for the new season's crops. The Mambwe who had followed the Fathers to Kayambi had returned home out of fear. Thus Brother Antoine, who was in charge of all the material work, had only the Bemba to help him. Since they were more proficient at hunting and warfare than in building or in tilling the soil, they sorely tried Brother Antoine's patience. He was a very saintly man and was greatly respected by the people. However, only six months after his arrival at Kayambi, he died of a fever and was buried in the small cemetery which was to be the last resting place of many other missionaries.
They were able to feed the poor and protect them against lions by using their guns and strychnine. Chief Makasa and his people were not slow to appreciate the genuine love the missionaries bore them.
Chitimukulu Kapalakasha failed to catch Father Motomoto in the snares he had prepared for the British and died in May 1897.
Extract from "Where it all began", Bishop Jean Marie Ogez