Scout News 2019-1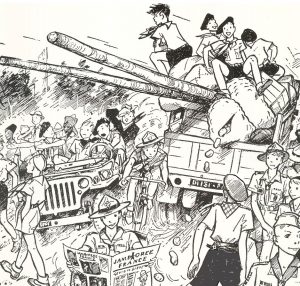 KNESSET
2 January 2019
National Honor Council of Scoutmaster at Shiwa Nghandu: The new name for this meeting is Knesset meaning "Cilye" in hebrew. Present were:
Scoutmaster Mwansa Sichilima, Chinsali
Scoutmaster Mateo Chimfungwa, Ilondola
Scoutmaster Tresford Chispasha, Chilonga
Scoutmaster Hendrix Yamba, Kasama
Scoutmaster Chola Maimbo, Nabwalya
Scoutmaster James Kapolyo, Mpika
Scoutmaster Peter Chomba, Mpika
Scoutmaster Jonas Mulenga, Mpika
Scoutmaster Nikolas Chifunda Mpulungu
and Fr. Thomas
The following decisions were made and will be thus implemented:
1. No Registration fee – No Uniforms: meaning; if a group has not paid its annual registration fee of K100.- the group cannot buy uniforms or books from the store.
2. Membership Fees
Members must pay their membership fee of K10.- per person if we want to be serious. Look into the matter with urgency. Scoutmasters to count their members and pay accordingly.
3. Structural Reform (hierarchy):
In order to be nearer to the different groups, troops and so on we have abolished the Coordinating Team and created new structures as follows:
a) Center Level with Patrols, Troop, Pack and Mpami. No change here. This is the basic structure.
b) Regions. We have created the following Regions, with each region headed by a Regional Scout Master and his team (chosen by himself).
– Region Tanganika with Mpulungu, Mbala, Mambwe, Nsumbu and Senga Hill. Tanganika Regional Scoutmaster is Nikolas Chifunda.
– Region Kasama with Kasama, Nondo, Kapatu, Chilubula, Kayambi, Lwingu, Mungwi and Mporokoso. Kasama Regional Scoutmaster is Hendrix Yamba
– Region Mpika with Katibunga, Mpika, Chilonga, Nabwalya, Mpumba, Chalabesa, Kopa, Mpepo and Mumbwa. Mpika Regional Scoutmaster is James Kapolyo and his assistant Master Jonas Mulenga.
– Region Chinsali with Ilondola, Chinsali, Mulilansolo, Isoka, Nakonde and Mulanga. Chinsali Regional Scoutmaster is Mateo Chimfungwa with Assistant Regional Scoutmaster Mwansa Sichilima
c) Diocesan Level:
Above the Regional level is the Diocesan level with its Diocesan Scoutmaster.
– Mpika Diocese is headed by Diocesan Scoutmaster Peter Chomba
– Kasama Archdiocese is headed by Diocesan Scoutmaster Nikolas Chifunda
d) National Level:
The top level is the National Level comprising all Yusufu Scouts in Zambia. Our elected National Scoutmaster is Tresford Chipasha.
All offices have been elected for one (1) year. Until we meet for the next Knesset.
4.Uniforms
All uniforms shirts are light blue with the exception of the scoutmasters that are members of the Knesset. They wear dark green shirts.
New is that we change the colors of the scarves. The scarf will be colored according to the regions:
Assistant Scoutmaster: Olive-green
Scoutmaster: White
Tanganyika Region: Black & Red ribbon
Mpika Region: Green & white ribbon
Chinsali Region: Black & purple ribbon
Kasama Region: Black & orange ribbon
The placement of the rank badges and special badges is to be followed strictly according to the picture below.
All Ranks on LEFT shirt sleeve
All Special Badges on RIGHT sleeve.
Promise lily on LEFT shirt pocket
If you run out of space for the special badges on your right sleeve, a Sash with special badges can be worn. The sash will have the same color as your second scarf color. For example: if the ribbon of the scarf is green, the sash will be green. If the ribbon is purple the sash will be purple too; and so on.
5. Yusufu Girls
The meeting decided unanimously the there will be NO Yusufu Girls whatsoever. In troops were this has been done such as Mumbwa and Nsumbu they must expel the girls. There will be no boys and girls together (co-education) in the Yusufu movement. By order of the Knesset (National Honor Council).
This must be abolished forthwith. Without fail. Groups not following will be expelled.
6. Uniform Prices 2019:
Shirts, Long Arm K 30
Shirts, short sleeves K 20
Scarves K 30
Barrett, blue K 40
Fisote fya Mimbulu K 20
Yusufu Flag K 500
Medals (metal) K 10
Handbook K 15
Promise Badges K 5
7. Activities on National Level in 2019
* 2 February: Budget Meeting, Scoutmasters at St. Monica, Tazara. Meeting starts at 8:30h
* 8 July – 8 August: planned for activities with German Scouts. First in Tanganyika region followed by a hike to Nabwalya. Then some social work. More TBA when they contact us.
* 1 – 7 October: Pilgrimage to Nabwalya for the feast of the Holy Rosary. Spearheaded by Yusufu as a diocesan Men's Pilgrimage.
* 2 – 8 September: Scoutmaster Courses at Shiwa as follows:
2 – 4 September: Scoutmasters
5 – 8 September: Akela Course
* Courses for Patrol Leaders shall be held in the regions to enable more Yusufu to participate. Contact your regional Scoutmaster for details.
* July 2019; 4-days Holidays: Educational Camp in the North Lwangwa Valley.
* 20 August: Annual Camp for ALL Yusufu at Lwitikila, beyond the falls.
8. Rosary of Liberation:
start as always with "I believe in God…". Then, instead of the "Our Father" say:
* "If Jesus sets me free, I will be free indeed"
Instead of the 10 "Hail Mary" say:
* "Jesus have mercy on me, Jesus heal me, Jesus save me, Jesus free me"
Repeat this 10 times, then again the "If Jesus sets me free, I will be free indeed". Finish with the "Hail Queen"
The whole rosary of liberation will take you 7 minutes. It is a very good prayer to remain in the presence of the Lord, to pray for healing or to pray for help.
You can also pray for someone, in that case instead of saying: "Jesus have mercy on me, Jesus heal me, Jesus save me, Jesus free me; you put in the name of the person you are praying for such as for example:
Jesus have mercy on Ntweno, Jesus heal Ntweno, Jesus save Ntweno, Jesus heal Ntweno.
If you want to pray for your family of your group, patrol and so on, you say: Jesus have mercy on my family, Jesus heal my family, Jesus save my family, Jesus free my family…
In this rosary you are calling upon the mighty name of Jesus 205 times. For sure he will hear you! Try it. If you want to pray in Bemba, say:
* Nasumina Lesa Tata
* Yesu nga ndubula, nalaba uwalubuka icine cine.
* We Yesu mbelelako uluse, we Yesu mposha, we Yesu mpususha, we Yesu ndubula…
* Mwapoleni Namfumu…