Bishop Joseph Dupont, The Myth
He is known and venerated throughout the Nothern and Lwapula Provinces of Zambia as the first white man to settle in Bemba territory.
Close to the territory of Mwamba, the powerful Chief of Ituna (Kasama), Dupont was the spokesman of Mwamba with the British. With the support of Mwamba and Makasa, he founded missions in February 1897 in the territories of Chitimukulu and Mwamba without the protection of the British.
Bishop
On May 16, 1897, shortly after his return from this exhausting journey, Father Dupont received a letter from Rome appointing him Bishop of the newly erected Apostolic Vicariate  of Nyasa. Chiefs and people of the whole area flocked to attend the ceremony and to express their good wishes.
Death of Mwamba:
Early in the morning of October 24, a great uproar resounded throughout the capital: "Chief Mwamba is dead." Before dying, the Chief said: "Bwana Motomoto is the only man who has faced up to me and had no fear of me. If I die, he will take over from me and be the protector of my people against those who will seek to kill them."
All the relatives of the dead Chief ran for refuge to Motomoto and the Fathers at Milungu. Before long about 10,000 people crowded round his encampment. They all proclaimed to be his 'subjects'. Bishop Dupont held council with all the chiefs. Among other things he told them that they must accept the authority of the British, in accordance with international agreements.
Enforced Rest:
The last eight years since his arrival in 1891 had taken their toll on Bishop's Dupont health. He had to return to Europe for a long rest. Before going to Europe he opened another mission in Chilonga. The four years he spent in Europe were not wasted; he worked hard speaking about the missions, recruiting missionaries and collecting money. He also obtained the services of the White Sisters who were to arrive in Zambia in 1902. During this time, three new missions were created: Mua, Likuni, and Kachebere (all in what is now Malawi).
Come back:
When he came back on 30 April 1904, after paying visits to Makasa, and Kayambi, he opened a new mission at Kapatu near Kaliminwa. This brought to twelve the number of missions which had been founded in the Vicariate since 1895. The Bishop insisted on frequent visits to each of his missions, even those in the South more than a thousand kilometers away.
Final Departure:
With all these visits, he was again exhausted. He realized that it was time for him to hand over his responsibilities to others, and offered his resignation to his superiors on October 18, 1910. Father Guillemé was appointed Apostolic Vicar to replace Bishop Dupont in April 1911. Knowing that his prestige would have embarrassed his successor, Dupont left Zambia in September 1911. He went to France to recuperate and to do whatever work he could. In 1917 he retired to Thibar in Tunisia and was obliged to curtail his activities. However, he kept constant contact with his dear Bemba and with his missionaries, who in turn never forgot the work he had accomplished in the Missions in Zambia. The long years of seclusion must have been very painful for one who had been so active. He died in Thibar in June 1930. His fame is due to his human qualities of leadership and the services he rendered to the people of Zambia.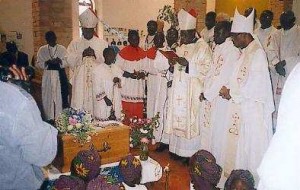 Extract from "Where it all began", Bishop Jean Marie Ogez