Mpika, Cathedral of St. Joseph the Worker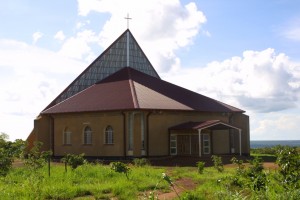 Founded 18.11.2002
The Cathedral was completed in 1999 and from this time until November 2002, when priests were appointed to the Parish, the Bishop took pastoral care of the Cathedral. The Cathedral was blessed on 1 May 2004.
Address
PO Box 450 007, Mpika
3 km from Puma Filling Station along Mpika-Kasama Road
Services Sunday Morning
Children: 07.30 hrs
High Mass: 09:30 hrs
Figures
Catholics: 9 800.
Catechumen: 200
Priests: Fr. Stephen Mwenge(PP), Fr. Irenaeus Chimpali (Treasury).
Sisters:3 Little Servants of Mary Immaculate(Sr. Helen Zulu: Accountant, Sr. Jancinta Johns: Bishop's Secretary, Sr. Rabbeca: Coordinator, Education aid.
Catechists: 2 + 75 vol
Small Christian Communities: 10
Apostolic Groups: 16
Institutions: HBC, Caritas St. Joseph
4 Sub-Parishes and their 20 Outstations
Chibaye (5): Chibaye, Ngobesha, Ngala, Kondo, Kabuka
Mutamba (6): Shilombe, Mutamba, Musungu, Tazara Corridor, Ntunta, Mulila
Luchembe (5): Chilufya, Ndakala, Ndona, Luchembe, Chibwa
St. Joseph (4): St. Joseph, Kuku, Chifobole, Ngwai
Religious Communities
Little Servants Of Mary Immaculate, LSMI
Kasisi Sisters
Mpika, St. Joseph's Convent (1998)
Adress:
Box 450 007, Mpika
Informations:
Past., Soc,