Fr. Telesphore Kabiti celebrates Golden Jubilee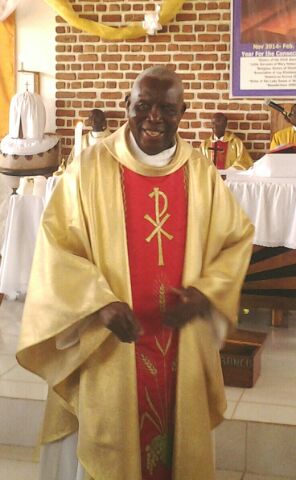 On 8 August 2015, the clergy and the faithful of Mpika diocese joined Fr. Telesphore Kabiti in celebrating 50 years in the priesthood at St. Andrew's Parish Church in Mpika.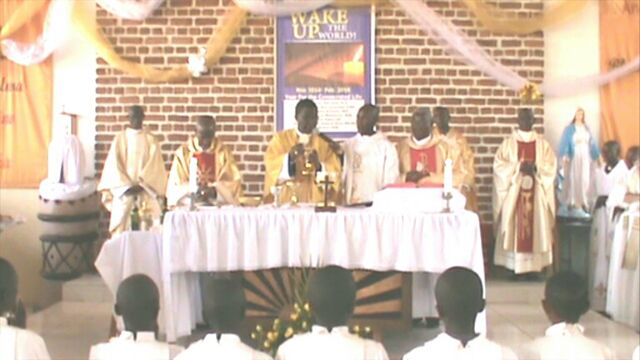 The mass was celebrate by his Grace Archbishop Ignatius Chama and concelebrated by the Right Rev. Aaron Chisha, Bishop Emeritus of Mansa and many priests from different parishes.
The homily was given by Bishop Aaron Chisha and the singing was done by the Chipundu Subparish Choir of St. Andrew's Parish. In his homily, Bishop Chisha preached about vocations. He said that vocations to the priesthood or religious life are part and parcel of God's plan to save humanity. It is God who calls and he calls the ones he desires to accomplish his works.
Fr. Telesphore Kabiti was ordained priest in August 1965. He and 37 others entered Katibunga Minor Seminary in 1947. In 1950 with 26 others, he went to Lubushi Minor Seminary. After completing O-Levels at Lubushi, he with five others entered the Kachebere Major Seminary in Malawi. Four of the five candidates were ordained priests: Fr. Kabiti, Fr. Aaron Chisha (later Bishop of Mansa), the late Fr. Elias Mutale (later Archbishop of Kasama) and the late Fr. Alex Chanda.
1st appointment Mulanga parish
2nd appointment Isoka
3rd appointment Mambwe
4th appointment Kopa Mission
1970 was teaching in Chinsali
1974 was sent to Uganda for studies
1975 was teaching in Mbala
1979 went to Ireland for studies
1980 was sent to the USA for studies
1983 was appointed to St. Dominic's Major Seminary
1987 was appointed to Mbala parish
1989 was appointed to Mpulungu parish
1990 was appointed to Lusaka  for Collage chaplaincy
1998 was appointed to Lwitikila Girls Secondary School as chaplain
2002 retirement. Since then he has been living at Lwitikila Rectory and helping saying mass in some centers of St. Andrew's Parish – Mpika.