The Year of Consecrated Life
On Sunday 11 January, 2015, the Feast of the Baptism of the Lord,  Mpika Diocese launched the year of the "Consecrated Life"; in line with the universal Church. It started on the first Sunday of Advent, on the 30th of November 2014 and will end on the Feast of the Presentation of Jesus in the Temple on 2 February 2016 as the Year of Consecrated Life.
The launching was done during holy mass, presided over by Archbishop Ignatius Chama. The mass was well attended  by religious men and women belonging to the different congregations and institutes of our diocese.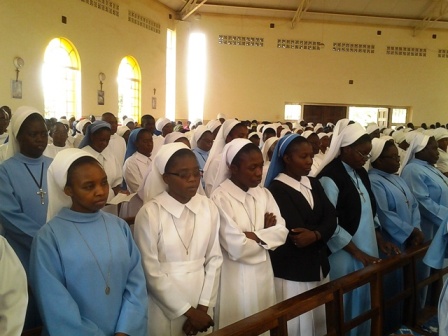 The Church was filled to capacity such that children were just sitting on the floor.
In his homily the Archbishop explained the meaning of the motto "Wake up the World". He called upon consecrated men and women to use this year as a time of renewing their vocation and re-dedication to their calling. He urged them to live their vocation as witnesses of hope in God and as people in whom God is pleased.
During mass, brother and sisters played an active role; they took the first and second reading and did general intercessions. After the communion rite each of the seven religious groups in our diocese displayed their symbols and explained their specific charisma.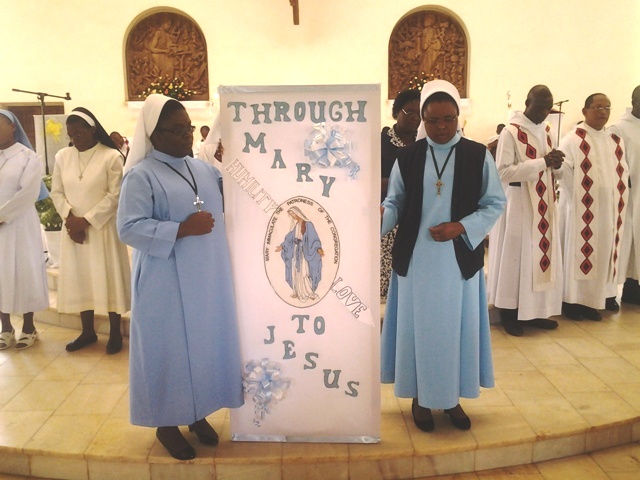 Eventually the Archbishop displayed the banner for the year of consecrated life, explained the meaning of the symbol on it and presented banners to every parish and institute in the diocese.