Pope Francis appoints Fr. Justin Mulenga Bishop of Mpika Diocese
On 23 December 2015, His Holiness, Pope Francis  appointed, Rev. Fr. Justin Mulenga (60)  of  Kasama Archdiocese as Bishop of Mpika. Fr. Mulenga was ordained priest for the Archdiocese of Kasama on 18 July 1993. He holds a Diploma in Accountancy (Evelyn Hone College) and studied Philosophy and Theology in Rome. Fr. Mulenga has served in many parishes as Assistant Parish Priest (Lwena, Kapatu) and as Parish Priest (Cathedral of St. John Kasama, Mbala) He also served as Episcopal Vicar for the Religious and as Treasurer General of the Archdiocese of Kasama. Currently the Bishop-Elect is Parish Priest in Lwena.
The  Mpika seat fell vacant following the appointment of  Bishop Ignatius Chama as Archbishop of Kasama on 12 January 2012. At the same time the Archbishop was appointed as the Apostolic Administrator of Mpika.
Mpika Diocese has received the message with great joy. On 26 December His Grace, Archbishop Ignatius Chama invited all priests and the faithful to a thanksgiving mass for the gift of the bishop.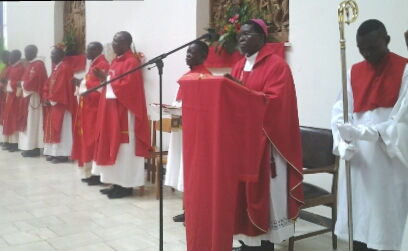 During this mass the Christians of Mpika Diocese prayed in a special way for the bishop-elect and  March 12, 2016 was announced as the day of Consecration and Installation of the bishop.elect.